West Spanish Peak Family Camp Out and Hike
San Isabel National Forest, Colorado
September 1- 4, 2006
Leader: Kathleen Gruetzmacher

Author: Jan Studebaker

Photo Gallery: Jan Studebaker, Click here to view.

Map Downloads: Click here to view.

Trip Participants: Kathleen, Michael and Elena Gruetzmacher, Jeff, Sophie and Rose Click, Dick and Judy Opsahl, Carol Gargano, and Jan Studebaker

Cosima was again drawn to Houston to work, so I found a number of fun and exciting things to do in her absence. One of them turned out to be a "family" camping trip, put on by my good friend Kathleen, to the Spanish Peaks area in southern Colorado near the small town of La Veta. Our "family" group included Kathleen and her kids: Michael and Elena, Jeff and his kids: Sophie and Rose, Dick and Judy, and their friend Carol, and me. It turned out to be a wonderful group; the kids were all terrific (I did have to coerce them into "adopting" me however).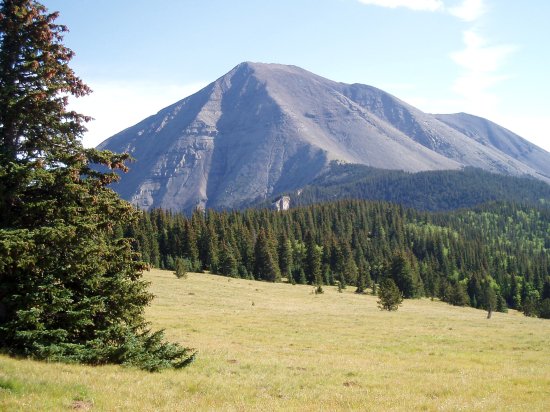 West Spanish Peak as seen from close to the trail head

I had always wanted to climb the peaks (East and West), but never got around to it. This time would be different, as we were going to camp at Purgatoire Campground in the San Isabel National Forest, which is just a few miles drive to the West Spanish Peak trailhead. West Spanish Peak is the highest of the two (13,626') and the easiest to access. Standing as sentinels along the southeast edge of Colorado's Rocky Mountains, the Spanish Peaks have long served as important landmarks for all who pass within sight of them. The Indians called them Huajatolla, or "Breasts of the World."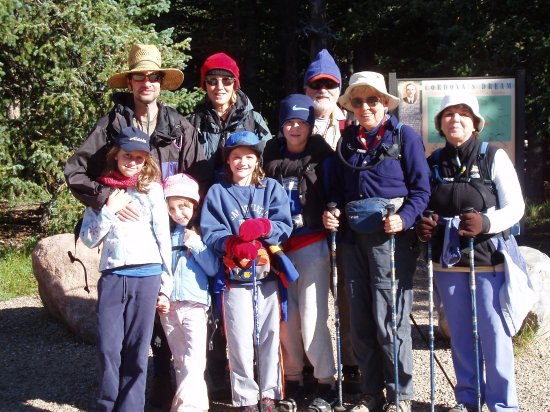 Our intrepid hikers!

I drove up with Jeff, Rose, and Sophie, and had a great time talking to Jeff about our Mount Hope climb and computers, as well as getting to know Jeff's precocious children.

Once at Purgatoire Campground we ate all our meals together as a group, so the social aspect of the trip was great fun, and I had lots of time to play with the kids. One evening I supervised the tricky cooking of marshmallows over my MSR isobutane-propane stove......the stove amazingly survived.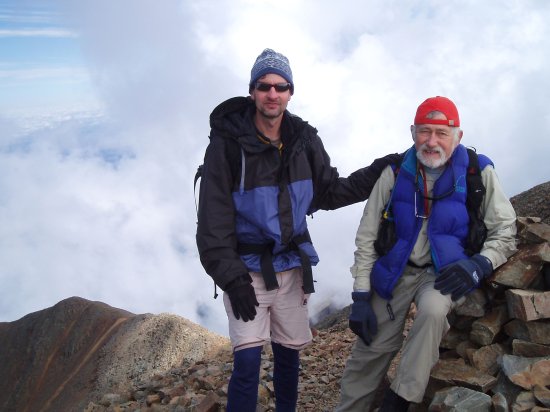 Obligatory summit shot

On our last full day we all headed up the West Peak Trail for a hike. Dick, Jeff, and I were in the lead, as we were the only ones hoping to make the summit. Kathleen volunteered to hike with the kids, as she had summited on her last family backpack to the area. Kathleen and the kids turned around part way up, and returned to the trailhead, and eventually to camp. Judy and Carol climbed to tree line at about 12,000', rested for a while, and descended to meet up with us two hours later. Carol was a real trouper as she lives near sea level and had to deal with an extreme altitude change.

Dick, Jeff, and I made our way slowly to the top (another 1600' vertical from tree line). It was definitely strenuous hiking through scree and talus, but 'oh' so satisfying when we got to the top. The summit ridge was quite long with multiple views that were magnificent, and accentuated by the clouds that rolled in and out as we hiked the ridge and ate our much appreciated lunch. The eastern end of our summit had a view of nearby East Spanish Peak, but only a bit at a time due to the mysterious fog.

Note: the "West Spanish Peak hike" is described in "100 Classic Hikes in Colorado", by Scott S. Warren, and is published by The Mountaineers Books. We highly recommend this book!

Click here to view our "West Spanish Peak" gallery

Click here to view maps associated with our "West Spanish Peak" trip