Back to "Monthly Program History"
January 21, 2009
"The Slickrock Country: Recent Adventures and More to Come"
by Bill Priedhorsky - Bio
Over the past few years, we have explored a good fraction of Grand Staircase/Escalante National Monument. What were once hurried long weekends have become relaxed week-long outings, that let us thoroughly explore the ridges, domes, pools, and slots. The terrain is so complex that we can find adventure while hiking no more than a mile or two from camp. We made camp with gear hauled on our backs, or, more pleasantly, hauled by llamas or horses. In my canyon country experience, the Escalante country is unique for its sheer volume of slickrock. I'll tell stories of some of the Escalante adventures of the last decade and especially the last year, telling the story of trips not discussed in my talk of last January.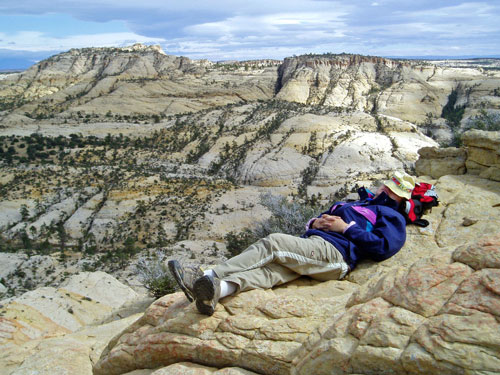 The slickrock doesn't stop in the Anton Ridge area, in the upper drainage of Death Hollow. Francesco Grilli relaxes in the middle of a day outing.
Although we have covered a lot of ground, there are still corners of the Escalante yet to be explored, and other places worth a return visit. I'll talk about ideas for our next adventures. Finally, we'll review some of the high points of our annual exploration of the Bluff area, in anticipation of our mid-February 2009 outing - our 7th year running, but maybe the last for a while.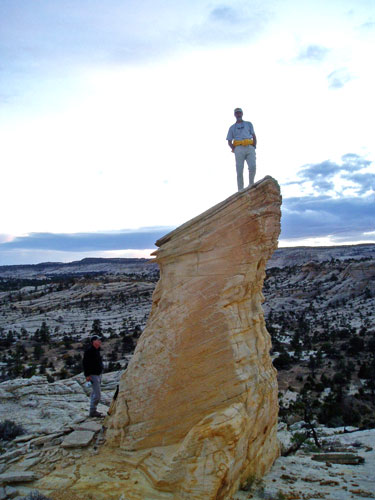 Dave Scudder tops a rock outcropping just above
our Anton Ridge camp.