Back to "Monthly Program History"
September 15, 2010
"Rivers in Demand:
Three years of exploratory kayaking through biodiversity hotspots"
by Kyle Dickman
The Rivers in Demand project has taken professional kayaker and journalist Kyle Dickman from the Congo River to the Rio Roosevelt in Brazil. The project, now it its third year, is designed to use whitewater kayaking and media to raise awareness to threats to biodiversity hotspots. Kyle's presentation will take a broad stroke on Rivers in Demand, explaining its purpose, its history and a few favorite adventures. A few examples: using a kayak to measure the Congo as the deepest river in the world (850 feet deep), dodging crocodiles in the mountains of Papua New Guinea, and kayaking the last descent of a section of China's Yangtze River.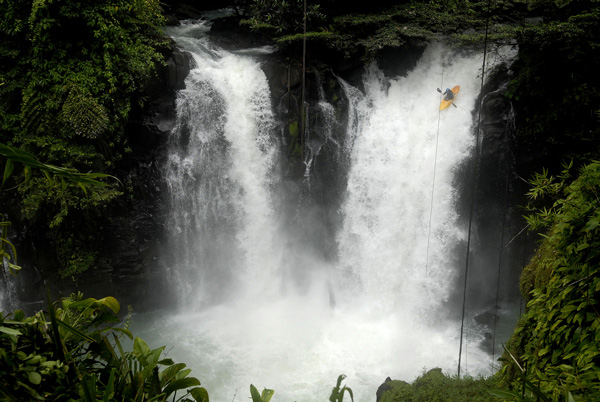 Running a waterfall in Papua New Guinea.
Kyle Dickman is a writer, photographer, and producer for the Epicocity Project. His work has been published by Outside Magazine, National Geographic Adventure, and he's a regular contributor at Canoe & Kayak.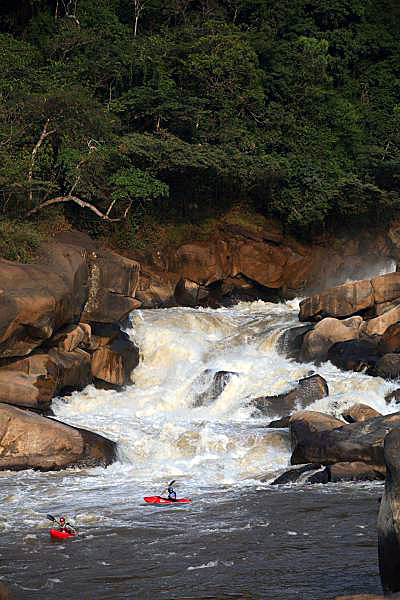 A small tributary of the Congo River.
Many of these projects were collaborations with the National Geographic Society and interested attendees are encouraged to read up on the Epicocity Project. Here are a few links for your enjoyment: Science and Survival, Descending into the Unknown in Papua New Guinea, and Evolution in the Deepest River in the World.