Back to "Monthly Program History"
November 19, 2008
"Antarctic Adventures"
by Rose and Chris Jaros
We spent a combined total of 18 months in Antarctica: the coldest, driest, windiest, most isolated place on Earth.
Our Antarctic adventures were facilitated by the scientific research we were each involved with at the University of Colorado, Boulder. The nature of scientific 'field work' in Antarctica can be very rewarding to those of us who crave outdoor adventure and exploration. This slideshow will cover the intersection between everyday life and the field work needed to support the scientific objectives in Antarctica as we experienced it.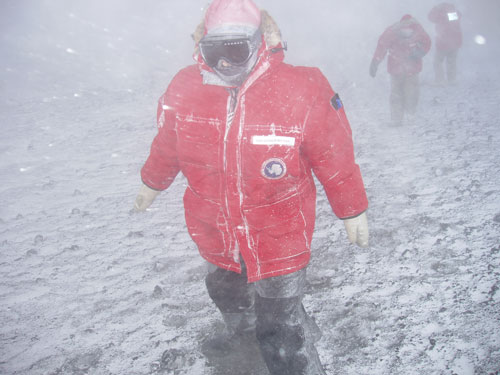 Spring storm approaches Cape Royds
Our time in Antarctica was based out of McMurdo Station on Ross Island (a major US hub of operations). We spent much of our time in the field, in the spectacular Dry Valleys, a polar desert near Ross Island.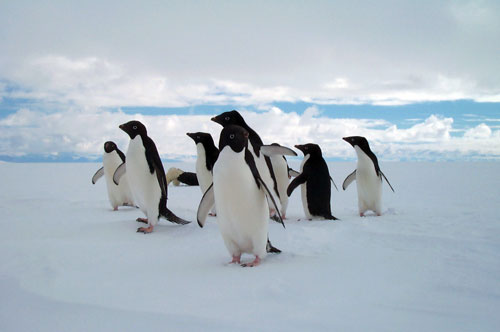 Adelie penguins near McMurdo Station, Ross Island
Every aspect of life and work in Antarctica was an exercise in adaptability to the interesting and unique challenges that cropped up on a daily basis. These challenges included navigation across all kinds of snow and ice by diverse modes of transportation, as well as the measures needed to tread lightly and leave no trace on the pristine environments we visited.


Don Juan Pond, Wright Valley, Dry Valleys



Evaluating cracks in the sea ice
for safe crossing
Our slideshow will address our most frequently asked questions such as: did you see any polar bears? Was it cold? What does it smell like? How many shades of white are there anyway? We will also point out the historical significance of many of the places we worked, all of which were visited by the great Antarctic explorers of the early 1900s.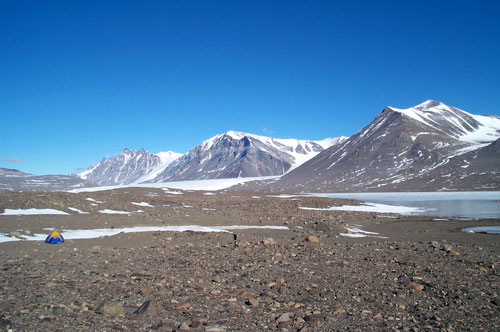 Camp at Lake Fryxell, Taylor Valley, Dry Valleys
Bio: Rose and Chris are originally from Dillon, MT and Grand Junction, CO, respectively, but have moved too many times to count upon turning 18. Driven to explore the natural world through science and engineering, Rose and Chris have worked in and explored the Arctic, the Antarctic, and many excellent locations in-between. They currently enjoy living in Los Alamos, and spend all their free time rock climbing, trail running, mountain biking, skiing and hiking.