Back to "Monthly Program History"
October 21, 2009
"Expedition Kayaking in California's High Sierra's"
by Tim Kelton
Since the very first expedition by Royal Robbins, Doug Tomkins, and Reg Lake in the early 80's, the major California Trans-Sierra rivers have proved to be one of natures most challenging multi-day expedition kayaking environments in the world. The Kings, Kern, and San Joaquin rivers have only had a handful of attempts in almost 30 years since their discovery due to their remoteness and challenging whitewater. To successfully run these rivers requires the assembly of a solid expedition team with experience in climbing, Class V+ kayaking, and pure physical strength. All food, sleeping, and kayaking gear for up to a week must first be carried up over the Eastern side of the High Sierra's; then we kayak down one of the most continuous and difficult sections of river in the world.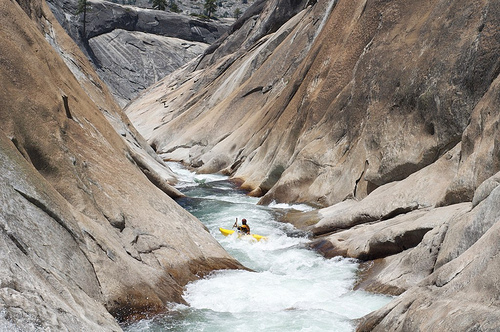 Hmm......how hard could it be?
Tim started kayaking during the summer of 2002. After a painful month of swimming down every section of river attempted and going to the Los Alamos pool to learn the basics, he progressed to a class IV boater in a quick few months (on a scale of I to VI). Since then, he has spent almost every spare weekend or evening running our local rivers and creeks on the Rio Grande and its tributaries.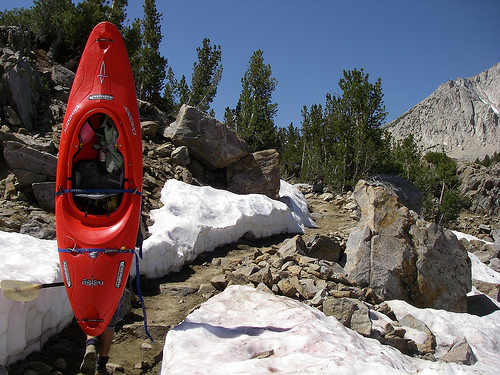 An exhausting, but necessary part of the sport.
Tim has traveled to California, Colorado, Utah, Arizona, Georgia, Tennessee, Washington, West Virginia, Mexico, Argentina, Chile, New Zealand, and British Columbia for the purpose of kayaking, adventure, and seeing the world from inside the canyons of the rivers which few people ever get the chance to see.