Back to "Monthly Program History"
September 17, 2008
"China and Tibet Adventure"
by Dick and Judy Opsahl
The adventure began in 1984, when Dick Opsahl traveled to China with a group of engineers and engineering educators to help improve engineering education at universities in China. The adventure continued this past May when Dick and Judy Opsahl and several others from Los Alamos went to China on an "Overseas Adventure Travel" trip, where among many other things, they learned of the astounding Chinese advancements of the past 20 years. They found high rise construction, new highways, and satellite dishes (once discouraged, but now tolerated) everywhere.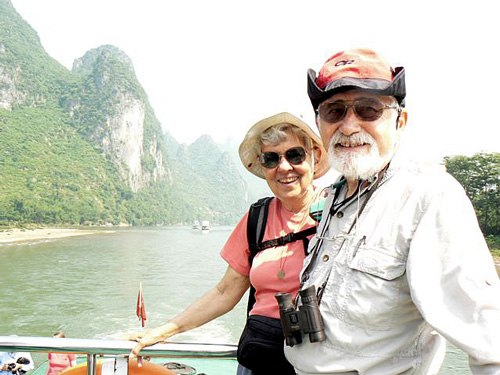 Judy & Dick cruising on the Li River near Guilin
A highlight in Shanghai was taking the regular service Maglev train to the airport, while getting up to a speed of 275 mph. The Opsahl's trip also included visits to Beijing, Xian, and Chengdu, where they visited a panda sanctuary. They then flew out of Chengdu just four hours before the disastrous earthquake and made it to safety in Guilin. The Chinese adventure was complete with a cruise through the Three Gorges of the Yangtze River, through the locks of the Three Gorges Dam, and then finishing with a visit to Hong Kong. Throughout the trip there were many opportunities to meet with Chinese people, visit their homes, and learn about their life and their culture. Before returning home, the Opsahl's took a side trip to Macao.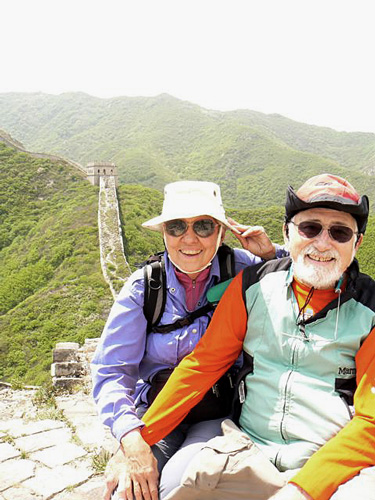 Judy & Dick on the Great Wall
The Opsahl's are long time, and very active, members of the Los Alamos Mountaineers, and have been trip leaders on numerous summer and winter Colorado hut trips, camping trips, and ski and shoeshoe day hikes. Judy and Dick are also avid travelers who have presented their overseas adventures to the Mountaineers on several occasions.