Back to "Monthly Program History"
September 16, 2009
"From the Mountains to the Sea"
A Service Trek in Rural Nepal and Fun and Sun in Southern Thailand
by Dave Dogruel
Dave Dogruel spent exciting days trekking through remote Nepal delivering needed medicine and supplies, visiting health clinics, schools, and temples, and wandering around extremely beautiful forested valleys with lovely streams and terraced farms. He got to know some of the charming local families who provided wonderful hospitality to his "service" group, and adventured in Kathmandu. In addition, he followed up his trek with an unforgettable visit to Southern Thailand. He will provide slides and commentary on his many experiences in this incredible part of the world.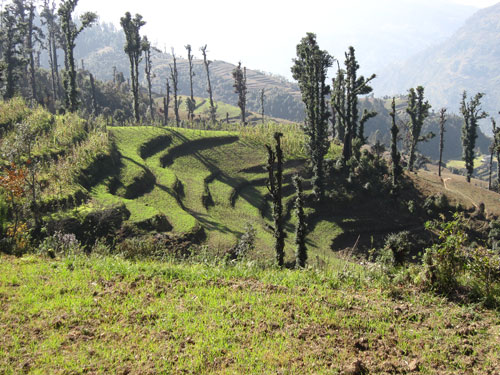 Terraces of Patale
"The Himalaya have always interested me and after meeting Dan Mazur several times in Santa Fe while giving shows about his climbs and treks, I joined the November 2008 SummitClimb Nepal service trek to the remote Patale region of Nepal. This expansive valley is home to many of the strongest climbing Sherpas who make it possible for foreigners to climb the highest mountains in the world. They also share their homes and lands with diverse groups of trekkers, yet they have many needs as Nepal continues to develop. This service trek provided assistance to the Patale health post and primary school with volunteer medical providers and educators, combined with adventures in Kathmandu and a scenic trek on paths less traveled."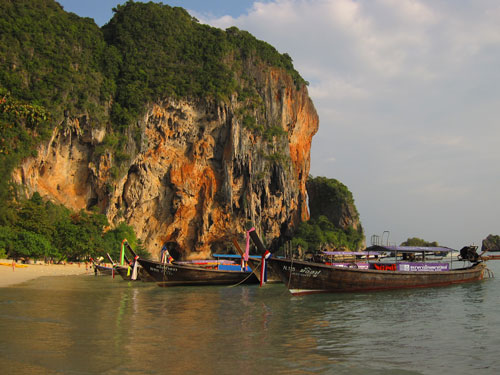 Tonsai Beach, Thailand
"What better way to relax after a mountain trek than to head for the beach? Inspired by a Mountaineers presentation several years ago about climbing in the Krabi area of Thailand, I spent some time on Tonsai Beach exploring, climbing, and learning to cook Thai food."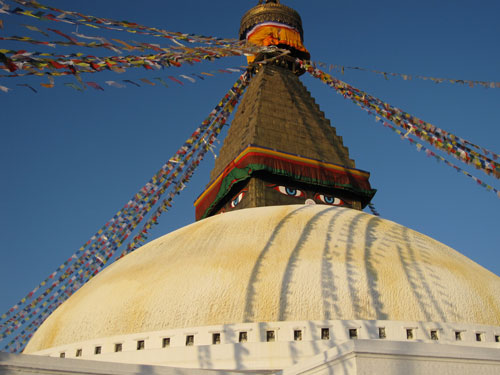 Boudnath Stupa, Kathmandu
Dave Dogruel has lived in northern New Mexico all of his life. He learned to rock climb from friends while attending college at New Mexico Tech, and learned to climb better after taking the LAM climbing school in 1988. Lately, he has been bitten by the trail running bug and has completed half-marathon off-road races and is working his way up to marathon distance.
Dave is a valued member of the Los Alamos Mountaineers. Over the years he has served the club very well indeed as President, Vice-President, Climbing School Director, Climbing School Instructor (for years), and Program Chair. For the past seven years he has been our A/V Potentate (audio and video man for club presentations).
Dave semi-retired from doing scientific research at Los Alamos National Laboratory, and currently works at REI in Santa Fe as a sales specialist. Unfortunately, he still doesn't get to play outside as much as he would like.