Back to "Monthly Program History"
August 18, 2010
"Gila River Adventure"
by Jean Dewart
The great El Nino Winter of 2009-2010 provided an above average snowpack in the Southwestern mountains of New Mexico, and a once every few years opportunity to run the Gila River. LAM's own Jean Dewart will show photos and describe her exciting five day Gila River trip done in April of 2010.

Jean learned to kayak while in school at the University of Washington, so was able to paddle many of the rivers in Western Washington as well as some in Eastern Washington and Eastern Oregon.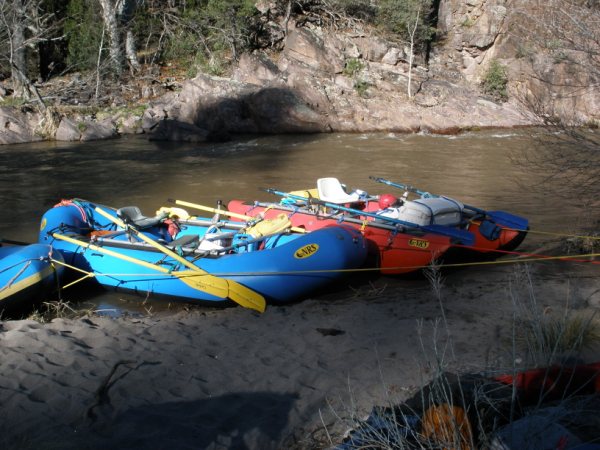 Rafts used in Jean's Gila River adventure.
Upon moving to the Southwest, Jean didn't realize that there were appropriate rivers for kayaking, so she failed to paddle for the next ten years. Then, two very strategic introductions to Betsy Barnett and Abe Jacobson helped her learn that there's lots of water in the Southwest. Since that time she has kayaked on many stretches of the Rio Grande, Rio Chama, San Juan, Arkansas, Main Salmon, Westwater Canyon, and two trips through the Grand Canyon.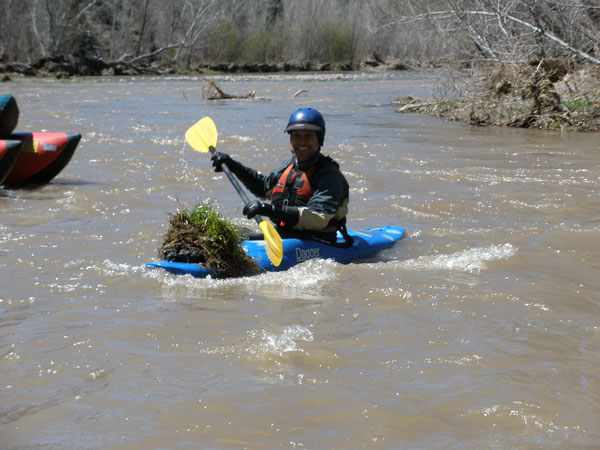 Bob Beers picks up some local vegetation.
In 2003 Jean bought her own raft so that she would be invited on more trips; it worked, allowing her to join a group from Santa Fe to run the Gila River in Southern New Mexico.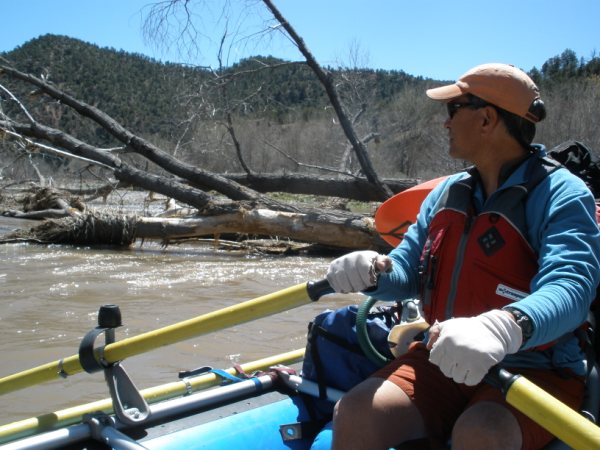 John Lopez navigates carefully through abundant Gila debris.
Jean is joining a group from Laramie, Wyoming, in July, for a twelve day canoe trip on the Wind River in the Yukon Territory; some of you may remember Jerry Starr, one of the trip leaders for this trip. She hopes to have photos from this trip to share as well.
Quick Bio: In addition to paddling, Jean loves to ski; Pajarito Mountain and Cumbres Pass are two favorite destinations. In the future, she hopes to do a backcountry ski trip in British Columbia and run the Owyhee River in Eastern Oregon. Jean works for the environmental program at the Laboratory.