Back to "Monthly Program History"
July 16, 2008
"High Angle Rescue Techniques", and the ASAR
by Rich Siemer and Carl Gable
Rich and Carl, members of the Santa Fe based "Atalaya Search and Rescue", will give us a presentation on "High Angle Rescue Techniques". They will cover basics of technical rescue, including standard operating procedures for ASAR and basics of technical rigging. How and why these methods are different from standard climbing techniques will also be covered.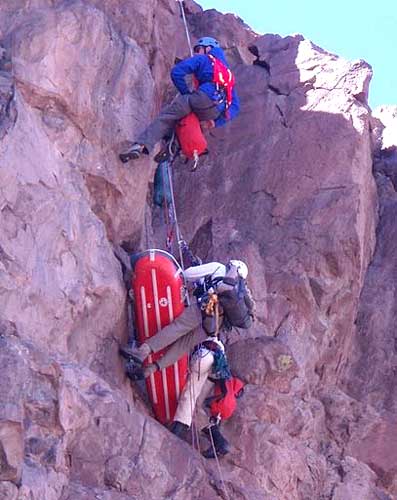 Litter loading at Diablo Canyon
Founded in the Fall of 2002, Atalaya Search and Rescue is a non-profit organization consisting of approximately 35 volunteers from the Santa Fe and Los Alamos area of northern New Mexico. Operating under the New Mexico Search and Rescue division of the NM State Police, ASAR team members have collectively participated in hundreds of search and rescue missions in the mountains, deserts and rivers of the southwest. On-call 24/7, Atalaya SAR plays a vital role in New Mexico's public safety network of first responders.

Preparing for a pick-off
In January 2008, ASAR became a fully accredited member of the Mountain Rescue Association, the nation's foremost standard-setter for mountain rescue teams. ASAR is one of only two MRA teams in New Mexico.

Winter litter loading
Rich Siemer has been with Atalaya SAR since its inception in 2003, and St John's SAR before that for many years. He is past president, and lead training officer, and a practicing architect in Santa Fe.
Carl Gable also has been with the team since its inception, and with St. John's SAR before that. He is ASAR's new member coordinator. He is an endurance event athlete and a geophysicist at LANL.