Back to "Monthly Program History"
July 15, 2009
"Geology of the San Juan Mountains Underfoot"
by Paul Bradley, Ph. D.
I finally finished my goal of climbing all of Colorado's 14,000+ foot mountains. For this installment, I will talk about the San Juan Mountains of southwest Colorado. The San Juans boast thirteen fourteeners, second only to the mighty Sawatch. These mountains are different from most high peaks in Colorado in that they are almost all volcanic, and part of a huge Oligocene volcano field. While the geology is not as varied as other ranges, it is still interesting and the scenery is spectacular here. This is a magnificent range, and is large enough that one can see almost endless mountains in every direction at times. Some of the most beautiful mountain scenery I have seen anywhere is here, and even if you don't want to climb a mountain, you should check it out. The San Juans contain some of the easiest climbs that I can recommend to beginners, but also some very difficult climbs that can be dangerous. They are also unique in that three of the fourteeners are best accessed by the narrow gauge train from Durango.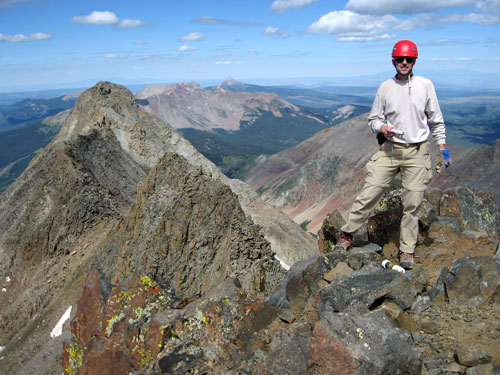 Paul on the summit of Mount Wilson in 2007. El Diente and the awesome
El Diente to Mount Wilson traverse is in the background.
Paul Bradley received a BS in Chemical Engineering and MS in Physics from Texas A&M University. During this time, he rediscovered his scientific love and became an astronomer, receiving a PhD from the University of Texas at Austin in 1993. He came to Los Alamos as a Director's funded postdoc that Fall. He has been in X-2 (and now X-4 with the latest reorganization), working on nuclear weapons, inertial confinement fusion, and astrophysics. His interest in geology picked up in graduate school and has continued with mineral collecting and observing geology on the many drives, hikes, climbs, and field trips. Paul caught the mountain bug on his honeymoon in June 1987 to Colorado and driving up Pike's Peak (no that didn't count). He started climbing 14'ers in 1996, got serious about it in 2000, and finished them by summiting Pyramid Peak in September 2007.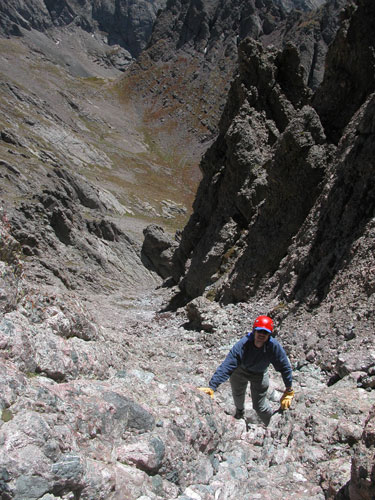 Paul during his ascent of Crestone Needle with Blake Wood.