Back to "Monthly Program History"
Wednesday, June 18, 2008
"Mountaineering in the Indian Himalaya"
by Jason Halladay - Bio
"The Indian State and former Himalayan Kingdom of Sikkim is arguably one of the most varied, beautiful, and compact regions of the Himalayas. On India's northeast border, and nestling between Nepal, Tibet and Bhutan, thumb-shaped Sikkim's highest point is the summit of Kanchenjunga (8598m) on its western border with Nepal. In terms of climbing objectives, there are countless rock walls, winter icefalls in high forests and mountain valleys, many interesting unclimbed 5-6000m+ peaks, a clutch of virgin 7000m peaks, and the world's longest un-climbed high-altitude ridge." - Roger Payne, British mountaineer and guide who now lives in Switzerland.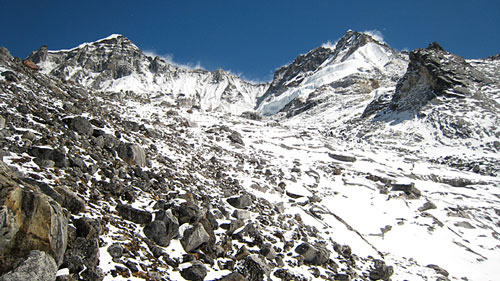 Tinchenkang (left) and Jopuno seen from around 15,000' above basecamp.
With a description like this, it's nearly impossible to turn down an opportunity to partake in an expedition to Sikkim, India. When Los Alamos area residents Sam Gardner, Sarah DeMay and Josh Smith asked if I'd be interested in the expedition I was quick to commit and then do anything necessary to ensure I'd be able to go.
For five weeks in the spring of 2008, the four of us traveled to India to climb in the Himalaya of Sikkim in the Thangsing Valley. With the third highest peak in the world, Kanchenjunga, at the head of the valley, the Thangsing valley itself has been a popular destination for trekkers for many years but only in recent years were the rugged peaks surrounding the valley opened to climbing. Our climbing objectives for the trip were focused on three relatively unclimbed peaks in the area. Tinchenkang (6010m), Jopuno (5936m) and Frey's Peak (5830m). With very little information regarding the climbing routes of these peaks, we went into the valley with a large feel of adventurous uncertainty.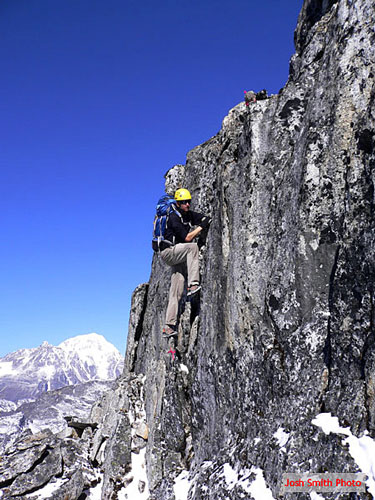 Jason on the rock face section on Tinchenkang's NW ridge around 17,000'
Despite fairly poor weather for much of the trip, we forged some great friendships with our liaison officer, trekking guide and cook staff at basecamp, took in some absolutely beautiful scenery and enjoyed some great success on the mountains with the second ever recorded ascent of Jopuno via a first ascent of the west ridge.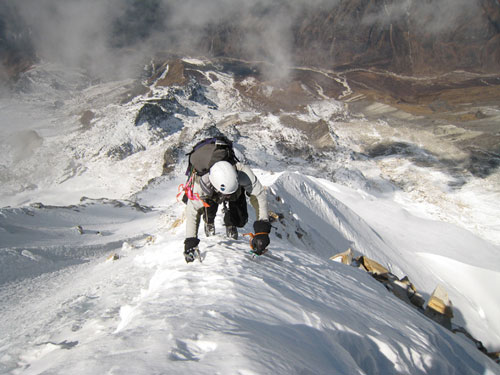 Josh on the first ascent of the west ridge of Jopuno.
Mountaineering in Sikkim is a relatively unknown venture for many mountaineers and therefore offers great adventure, opportunity for first ascents and inexpensive logistics. In this slideshow I will talk about the planning and logistics of our trip, the unique obstacles of mountaineering in Sikkim and traveling to, from and in India. And I'll probably mention the food too.