Back to "Monthly Program History"
June 16, 2010
"The Ascent of Masherbrum: 50 years later"
by Tom Hornbein
We are indeed pleased to have well known American mountaineer Tom Hornbein reconstruct the the first ascent of Masherbrum for us in words and photos. Tom was a member of the original first ascent team.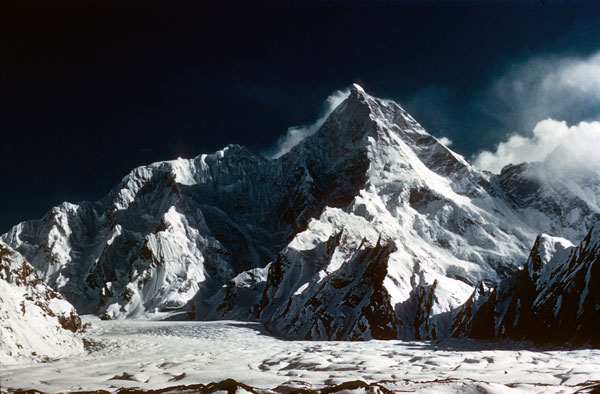 The teams 1953 view of Masherbrum from the Baltoro Glacier in northern Pakistan.
Masherbrum was first climbed on July 6, 1960 by LAM member George Irving Bell and Willi Unsoeld, as part of the American-Pakistan Karakoram Expedition led by Nick Clinch. They succeeded in climbing the southeast face that had stymied earlier attempts.
George ascending a steep snow gully,
the crux leading to the saddle between
the two summits of Masherbrum.

George approaching Willi at the summit of Masherbrum. The south and lower summit is in the background.
At 25,660 feet, Masherbrum is the 22nd highest peak in the world. According to the Himalayan index, there have been only three subsequent ascents. The Los Alamos Mountaineers honor this historical climb and an esteemed member by featuring Masherbrum (as seen from the Hushe Valley near Kande) as our club logo.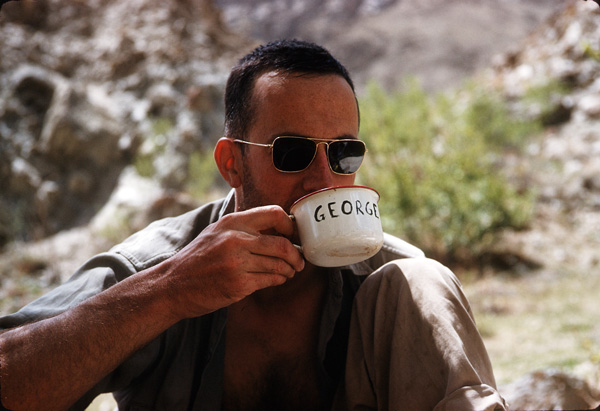 George Bell on the approach to Masherbrum.
The American Alpine Journal published an account of the climb written by Willi Unsoeld.
Our speaker, Tom Hornbein, is perhaps best known for his and Willi Unsoeld's first ascent of Everest's West Ridge in 1963. The three prior ascents of the mountain had been made via the South Col/Southeast Ridge and the North Col. Willi and Tom's hope was to climb up the West Ridge and down the Southeast Ridge/South Col route. This would make theirs the first traverse of an 8000-meter peak. A narrow gully penetrating the uppermost part of the mountain is now known as the 'Hornbein Couloir'. In his book 'Into Thin Air', Jon Krakauer writes that "Hornbein's and Unsoeld's ascent was--and continues to be--deservedly hailed as one of the great feats in the annals of mountaineering."
Activities before the Program: The club will make a special presentation to Virginia (Ginny) Bell for her own and George's inspiration to all of us who live the outdoor life. The event will begin with a social time and a special logo cake at 7:30 PM, followed by a brief business meeting and award ceremony for Virginia.