Back to "Monthly Program History"
May 19, 2010
"Walk Across England, Fall of 2009"
by Dick and Judy Opsahl
Dick and Judy Opsahl will present pictures and experiences of their walk across northern England from August 22nd to September 4th, 2009, along the 190 mile Coast to Coast Trail. They began in St Bees on the Irish Sea, walked across the Lake District, with its sparkling lakes and steep fells, through the rolling Yorkshire dales and the heather covered Yorkshire moors, ending 14 days later at Robin Hood's Bay on the North Sea.
The Coast to Coast walk was established in 1973 by Alfred Wainwright by cobbling together the numerous ancient footpaths and rights of way along the route. It passes through three National Parks: the Lake District; Yorkshire Dales, and North York Moors, all of which are known for their beauty and varied terrain.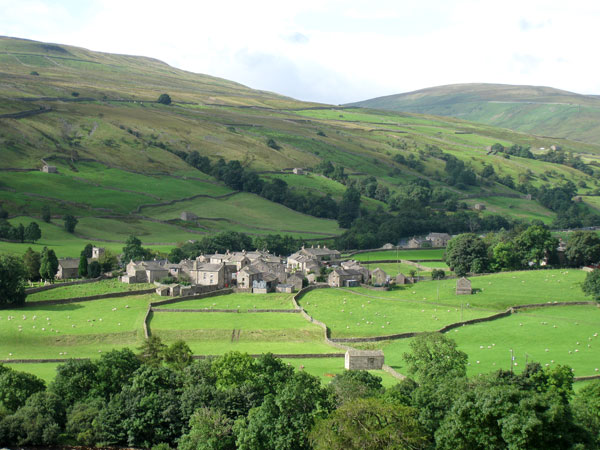 This is a charming example of a rural English village in North England: stone houses along side a stream or river (in this case, the Swale River) surrounded by sheep pastures, with a stone church at its heart. The village also contained a school and a few shops. The Swale Valley, where this village is located, is famous for its woolens.
En route they passed through charming country villages, beautiful countryside, crossed hundreds of styles, saw a million sheep, and had plenty of rain. Accommodations were in nice B&Bs with luggage transport provided. They will offer information on how to set up your own trip along this route to those interested.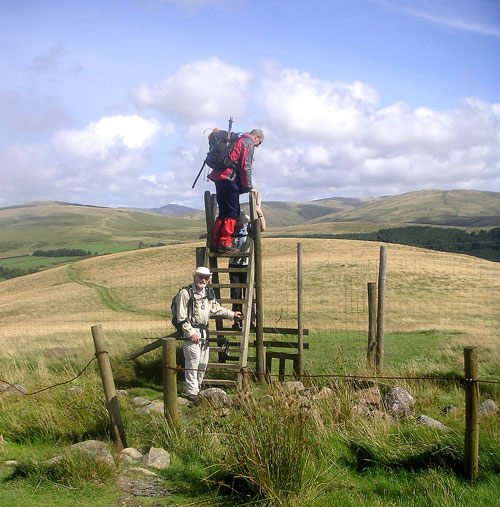 Styles, designed to help walkers cross the fences or walls that prevent sheep from wandering off their grazing land, come in various shapes and sizes, and since most of the wild land in Northern England is used for sheep grazing, you cross innumerable styles on the walk. This one is in the Lake District (Cumbria) and is the tallest style we encountered.
About our speakers: Dick and Judy Opsahl met when skiing, and outdoor activities have continued to be a part of their life together. They have skied the High Route from Verbier lto Zermatt, walked the Inca Trail to Macchu Picchu, and sections of the Appalachian and Colorado Trails. Both became marathon runners, with Dick having run well over 100 marathons, including the Everest Marathon from Everest Base Camp to Namche Bazaar (the only marathon in the world where you walk 3 weeks to the start). Dick soon moved up to ultra-running, and in 1998 completed the Grand Slam of ultra-running: four 100 miles trail races in one summer. Both Dick and Judy have participated in long distance XC ski marathons, canoe races, and multi-day bike trips.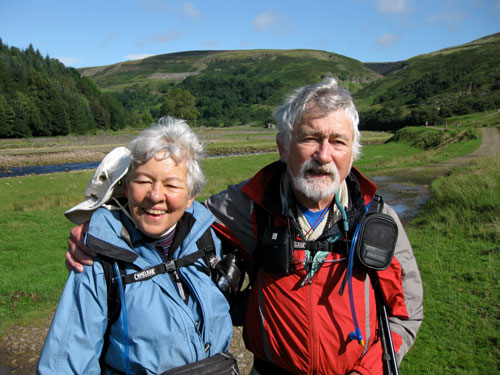 Dick and Judy Opsahl in the Swale Valley. This picturesque river valley
in the rolling hills of central North England is famous for its woolens.
Since coming to Los Alamos in 1999 the Opsahls have led a number of trips to to the Tenth Mountain Huts; five in the winter and three in the summer. Their trip for this summer to Skinner Hut (July 1-5, 2010) is full and has a waiting list. They walked the Camino to Santiago in Spain from the Pyrenees to Santiago in 2002, and have since gone back to re-walk it in three sections. In 2008, they led a trip of Mountaineers there to walk the last 120 miles of the route.