Back to "Monthly Program History"
April 21, 2010
"The new sport of Snowkiting, plus
Heliskiing/Heliboarding in Canada and Alaska"
by David Cole
David's first topic will be Snowkiting, which is a new sport that is an off shoot from Kiteboarding in the water, and is a unique way for Snowboarders and Skiers to access the backcountry. Primarily developed in Europe snowkiting is becoming very popular in the US. Snowkiting has opened up the backcountry as the ultimate playground without any ski lifts in sight and no skinning up or snowshoeing.
Utilizing the power of the wind the skier or snowboarder can use their kite to propel themselves across the snow and even up hills. Riding the powder and even jumping into the air with the aid of the kite is pure delight. The kites come in various sizes and can handle wind from 8 to 50+ mph.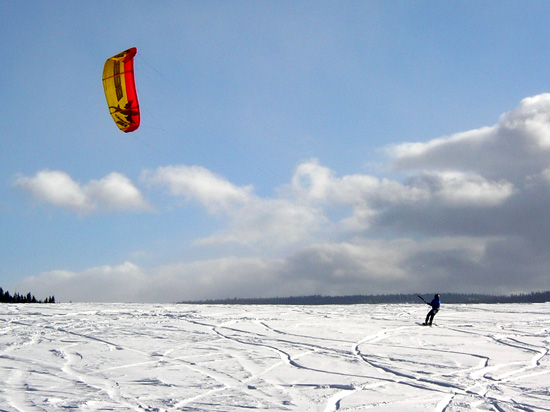 Snowkiting in Northern New Mexico.
Basic equipment is a large traction kite, a harness to attach the kite to your body, and skis or a snowboard. This presentation will show the equipment and preparation for snowkiting, along with the best locations in New Mexico to do it.
Cole has been Kiteboarding and Snowkiting for 6 years, and has a mountaineering background that includes summits and snowboard descents of Mt Rainier, Mt Baker, Mt Hood and Mt Shasta.
David's second topic will be Heliskiing/Heliboarding in Canada and Alaska. When the wind stops blowing an even better way to access the backcountry is in a helicopter. Canada and Alaska have incredible Heli-ski operations, and since 2001 he has done eight such trips. David will present a quick look at the various options, terrain choices and ups and downs of Heli-skiing.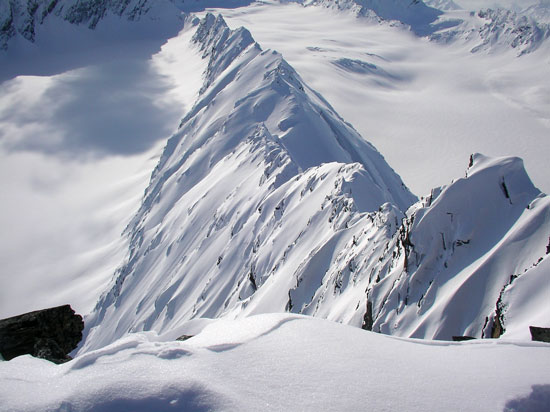 At the top of a run in Valdez Alaska while heliskiing.
Twenty five years of Snowboarding, fifteen years of Skiing, and eight Heli ski trips, including Canada and Alaska, have given David a deep understanding and appreciation for his sport. He is an avid backcountry snowboarder with Silverton, Colorado, as a focal point.
David is also an accomplished mountain biker of 20 years, and manages to do some rock climbing as well, with a recent assent of Castleton Tower in Moab Utah.
Cole has lived in Albuquerque since 1983 and was born 40 miles south of Moab Utah in 1963.