Back to "Monthly Program History"
Wednesday, April 16, 2008
"Rock Climbing in Rio de Janeiro, Brazil"
by Sandra Corso - Bio
LAM member and Native Brazilian guide, Sandra Corso will present over 80 slides and possibly a short movie about rock climbing in the largest urban climbing mecca, Rio de Janeiro.
Rio city is known to be the largest urban rock climbing mecca in the world. There are over 800 multi-pitch routes right in town. The city is surrounded by over 50 metamorphic/granitic rock structures 3-10 pitches tall. One the most popular massive is Sugar Loaf. Climbers may choose one of the 70 different routes on it, ranging from 5.4-5.14 including big wall routes.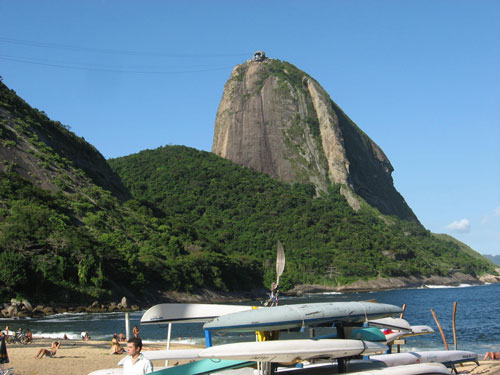 Sugar Loaf Mountain
Sandra will also show pictures of the most aesthetic climbing routes nestled in the Serra dos Orgaos National Park and Three Peaks State Park. Both parks are located within about 115.000 acres of dense tropical forest and at an elevation ranging from 4000-7500feet.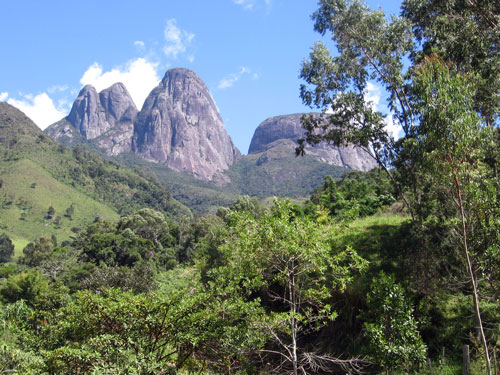 The "Three Peaks" within 'Three Peaks State Park'
Here you have over 25 majestic buttresses to choose from, with routes ranging from 3-18 pitches of 5.6-5.13, and loads of aid routes.
The views from most of these climbs are amazing. You are either climbing right in middle of a pristine Atlantic forest, or right above the tropical waters of the Atlantic Ocean.
Visit her guiding website by clicking here.