Back to "Monthly Program History"
April 15, 2009
"Himalayan Climb of Gasherbrum II"
by Michael Collins
In 1987 five mountaineers from Lander Wyoming, all mountaineering guides from the National Outdoor Leadership School (NOLS), set out to climb Gasherbrum II (26,466') in Pakistan, the last 8,000 meter peak unclimbed by Americans. We had only a picture of the summit and a broken conversation with a French climber we met in South America. This started a great adventure that took us to one of the most remote peaks in the world. After six weeks of hard work and bad weather we climbed the peak with no oxygen, no high altitude porters, and in alpine style.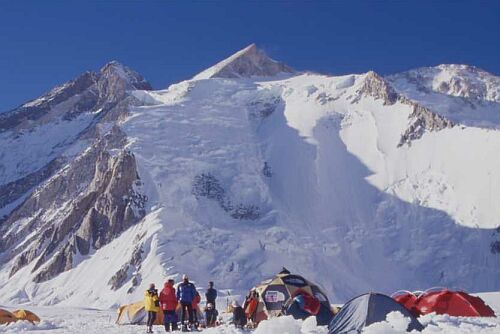 Public Domain photo from the "Saxon Karakorum Expedition 2001" by Olaf Rieck.
All of Michael Collins' photos are on 35mm slides.
Michael Collins' Bio: I spent my youth learning to climb, hike, and canoe in the mountains of New England. After a tour in a special operations unit in the Marine Corps, I moved to Wyoming were I worked for the National Outdoor Leadership School, and then opened my own guiding service. I spent the next 20 years climbing and guiding all over North and South America. In the late 1980's I started climbing in the Karakorum range in Pakistan culminating in the first American ascent of Gasherbrum II.