Back to "Monthly Program History"
March 18, 2009
"Rock Climbing at Red Rock Canyon National Conservation Area, Nevada"
by Roger Rumsey and Jason Halladay - Bio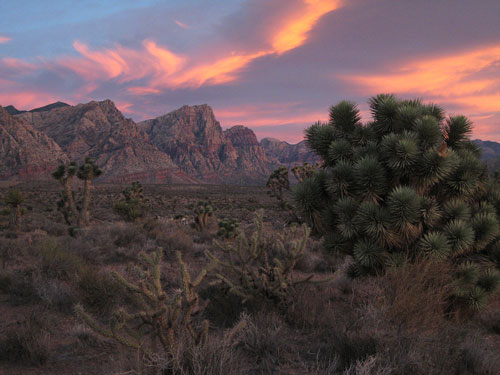 Read Rocks Sunrise
Local Los Alamos climbers Roger Rumsey and Jason Halladay combine to present a pictorial presentation of one of the premier rock climbing destinations in the United States. With a combined total of approximately 30+ years of climbing experience and approximately 20 trips to Red Rocks between them, Roger and Jason will provide an overview of their most memorable climbs and experiences.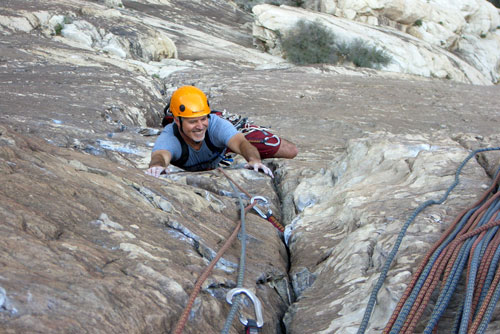 Roger Styling high above the Desert
Known for incredible scenery and a climber-friendly atmosphere, the Red Rock Canyon National Conservation Area (RRCNCA) should be at or near the top of every technical rock climber's choice of destination.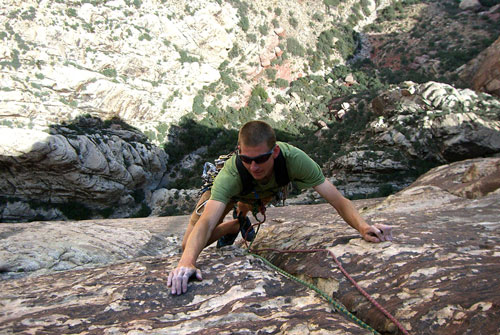 Jason high up on Black Velvet Wall
The amazing sandstone mountains of the RRCNCA yield thousands of routes from all-day multi-pitch adventures to easily accessible sport climbs. Whether you are a beginner climber, advanced climber or simply interested in beautiful scenery please come and join an evening of great memories and experiences.