Back to "Monthly Program History"
March 17, 2010
"Climbing in the Dolomites"
by Jason Halladay
Inspired by the cover photo of Delago Tower in the March 2009 issue of Rock and Ice magazine, Allison Fritz and I promptly began researching travel and climbing logistics in the Dolomites of northern Italy. As we read more about the Dolomites' climbing history, long limestone routes, easy access, great hut system and, of course, superb food and drink, we quickly decided we'd spend a week in the Dolomites during our summer European vacation in July/August 2009.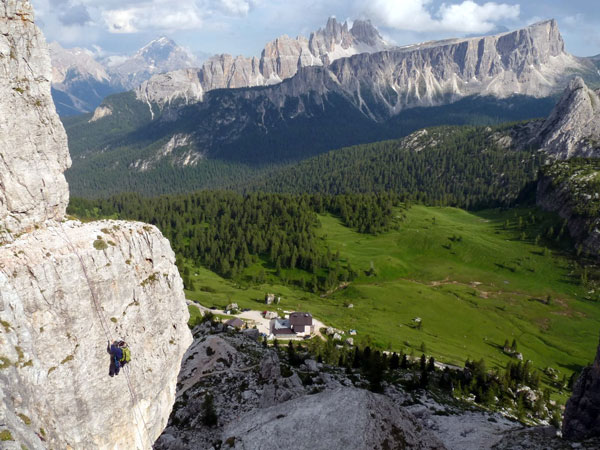 A climber rappels Torre Barancio with the Croda Da Lago mountains in the background.
The Dolomites are named after French geologist Déodat de Dolomieu who studied the mountain's mineral composition and differentiated between dolomite (calcium magnesium carbonate) and calcite (calcium carbonate), the two main types of limestone that make up the Dolomites. Not knowing much about geology, this didn't make a huge impact on me but reading about a 12 pitch 5.7 with grand views of the Croda Del Lago mountains got me terribly excited to go explore the Dolomites.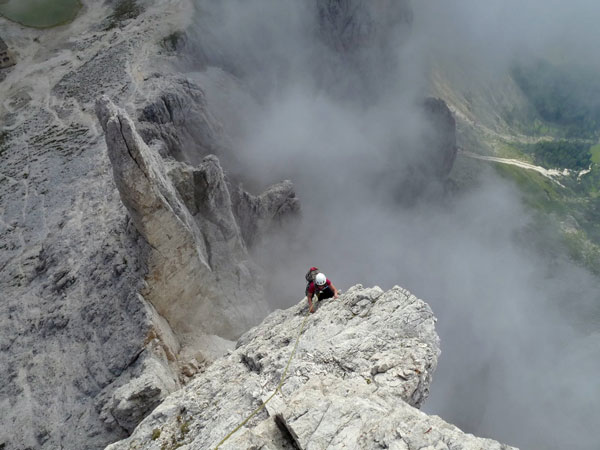 Allison on the second pitch of the route that inspired our trip to the Dolomites
The southwest arête on Delago Tower.
Allison and I spent seven days hiking, climbing and scrambling in the Dolomites. During our time there we climbed a number of fun, moderate routes as well as clipped into a couple "via ferrata" -iron cables and rungs that lead scramblers up, around and even through the mountains. All our our adventures were day trip excursions affording us showers, tasty meals and comfortable beds at the end of each day. The easy access and hut infrastructure in the Dolomites makes for efficient and low-committing outings with full value.
About our Speaker: Jason Halladay of Los Alamos, New Mexico, has been mountain climbing for over half his life. His addiction to the outdoors and mountain climbing began in his teenage years as simple backpacking trips but has evolved into technical rock, snow and ice climbs of more difficult and demanding peaks. Jason honed his alpine climbing skills while climbing all of Colorado's 59 14ers not once but twice in the past 9 years in all seasons of the year.
Jason has climbed some of the United State's highest summits including the West Buttress of Denali, the Liberty Ridge of Mount Rainier, and a snowboard descent of Mount Hood's south face. He has also lead successful expeditions to four of the "Seven Summits" - Denali (20,320', Alaska, USA), Kilimanjaro (19,340', Tanzania, Africa), Aconcagua (22,841', Argentina, South America), and Mount Kosciusko (7,310', Australia). More about Jason is here.