Back to "Monthly Program History"
Wednesday, March 16, 2011
"Espresso Lessons: Practical Mental Fitness Applications in Stress and Risk Situations"
with author Arno Ilgner
Arno's first book, The Rock Warrior's Way, outlines the foundation of the Warrior's Way material. His second book, Espresso Lessons, takes the material into practical climbing situations.

Mental fitness training is simply improving your ability to keep attention in the moment. The most challenging...and interesting...moment in rock climbing is when your mind doubts whether or not you can continue climbing. Knowing when it is appropriate to push through this doubt and when to back off is critical for taking appropriate risks.

Join Arno for an insightful evening of applying the Warrior's Way mental training material to practical climbing situations.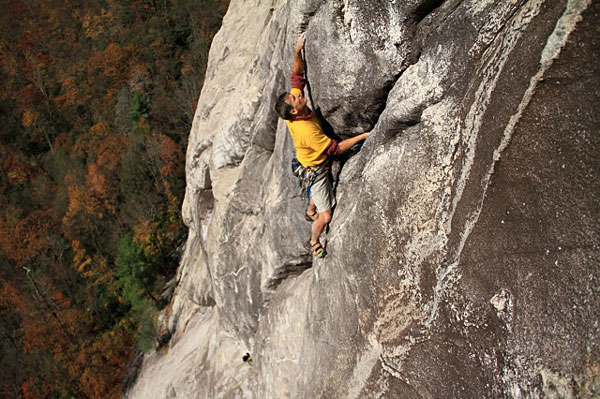 Arno on Defective Sonar (5.12a) at Laurel Knob, North Carolina.
Photo Courtesy of Dominic Smith
In this presentation, you'll learn:

Limiting mental tendencies and how to avoid them.

How to use the mind's intelligence for preparation.

How to make appropriate risk decisions.

To understand falling.

How to commit to taking effective action.

Arno Ilgner distinguished himself as a pioneering rock climber in the 1970s and '80s, when the top climbs were bold and dangerous first ascents. These personal exploits are the foundation for Ilgner' s unique physical and mental training program...The Warrior' s Way. In 1995, after a thorough search of the literature and practice of mental training and the great warrior traditions, Ilgner formalized his methods, founded the Desiderata Institute, and began teaching his program full time. Since then, he has helped hundreds of students sharpen their awareness, focus attention, and understand their athletic (and life) challenges within a coherent, learning-based philosophy of intelligent risk-taking. Ilgner considers the joy and satisfaction in the effort...the "journey"...intimately linked to successful attainment of goals, the "destination." Alumni of his courses now include some of the nation' s most prominent climbers.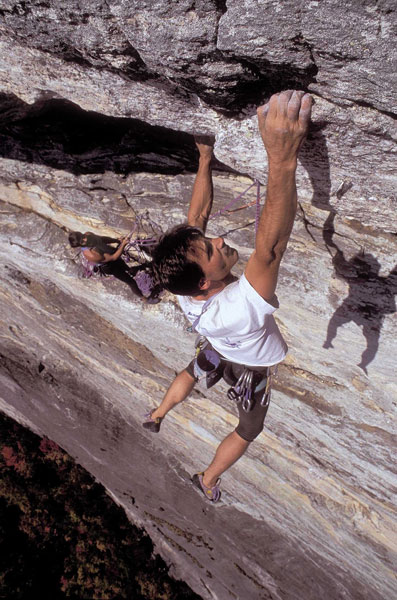 Arno on the Volunteer Wall (5.12a), at Whitesides Mountain, North Carolina.
Photo Courtesy of Jeff Achey
Ilgner has run clinics across the U.S., Canada, Italy, and Australia. He has worked with young competition climbers and written national magazine articles based on his methods. He holds a BA in geology, spent several years operating his own geological consulting firm in the Wyoming oil fields, acted as Chief Financial Officer for an industrial tool distribution company, attended the Army Ranger School, and served a non-combat tour of duty in Korea. He currently resides with his family near Nashville, Tennessee. More information about Arno, his books, and his methods can be found at www.warriorsway.com.