Back to "Monthly Program History"
Wednesday, February 20, 2008
"Cascades Adventures"
by Gregg Brickner
Does it really "rain all the time" in Seattle? Well no, not all the time. There are some snatches of good weather in between the low pressure systems rolling in from the Pacific, and while it's dry the urge to be outdoors becomes overwhelming.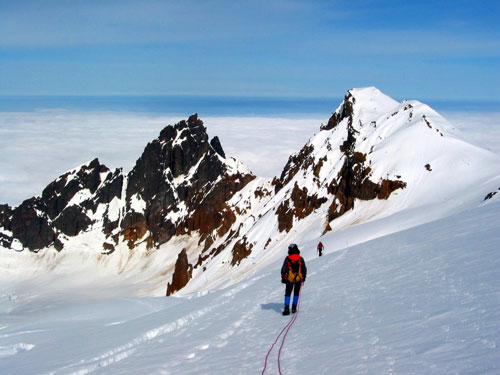 Traverse near the Black Buttes of Mount Baker.
One of the best things to do while it's dry is to head for the Cascades, an utterly spectacular mountain range peppered with major volcanic peaks running north to south from southern Canada, through Washington and Oregon, and on into northern California. While many have visited the major Cascades volcanoes like Baker, Rainier, and St Helens, to me the non-volcanic peaks are equally spectacular.
Heavily glaciated on their upper slopes, they present an extremely jagged outline. While not high, (none rise to even 10,000 feet), their relief from the intervening valleys is frequently 4,000 to 6,000 feet in just a couple of miles. Six of Steck and Roper's Fifty Classic Climbs of North America are in the Cascades.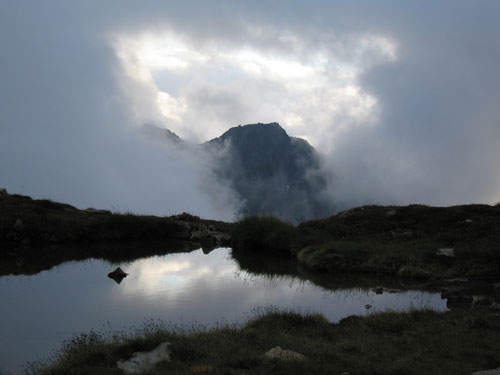 One of many gorgeous views along the Ptarmigan Traverse.
We'll look at more than two decade's worth of hikes, climbs, and ski tours in the Cascades, including Mt Rainer, Mt Shuksan, Mt Baker, Glacier Peak, and the Ptarmigan Traverse. But we may also get a glimpse of the underside of the Cascades, including whiteouts, devil's club, and who knows what else. We'll also visit the other side of the outdoors coin in Washington - the marine playground. Here you will find beach camping, sailing and sea-kayaking adventures.
Your presenter, Gregg Brickner, lived in New Mexico for fourteen years, and was an active member of the Los Alamos Mountaineers for most of that time. I focused mostly on mountaineering trips, including several winter ascents of fourteeners, and several trips to the Washington Cascades for multi-day traverses and to climb Mt Baker and Mt Rainier. In 1995, my wife Anne and I moved to Seattle "for just one year" for career reasons. Since then, we have spent much of our time in the Cascades, and consider them some of the most beautiful terrain on earth.