Back to "Monthly Program History"
January 20, 2010
"Alsek River Rafting Adventure"
by Sharon Kapple
Sharon's raft trip down the Alsek River was an adventure into one of North America's wild and untamed places. The Alsek River originates in the Kluane National Park Reserve. The river flows approximately 200 miles across the Yukon Territory, the northern tip of British Columbia and the Alaskan panhandle, emptying into the Pacific Ocean at Dry Bay, Alaska. The river is formed by the ice melt from one of the world's largest sub-polar ice fields of the St. Elias Mountain range.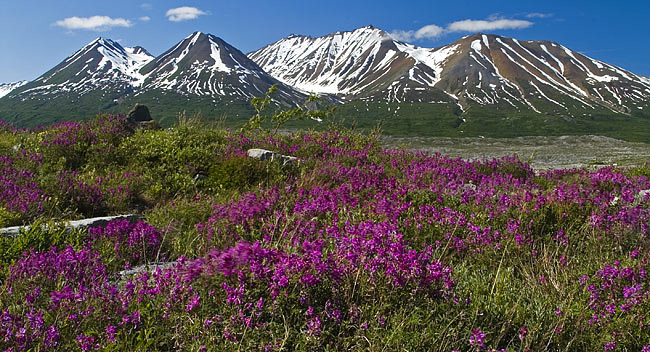 Kluane National Park Reserve.
The convergence of the Alsek and Tatshenshini rivers forms the second largest river flowing into the Pacific Ocean. Sharon's adventure was highlighted by breathtaking scenery, class IV rapids, a heli-portage over Turnback Canyon, walking on glaciers, paddling among icebergs, and camping in fields of vibrant wildflowers.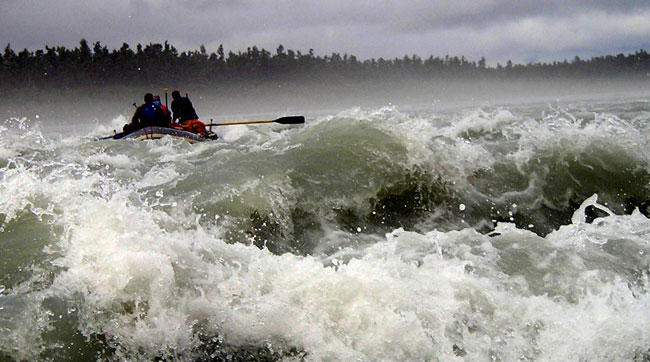 These fine rapids were at the out flow of Alsek Lake.
Before coming to Los Alamos in 1999, Sharon's forays into hiking consisted of completing 23 of the "50 Hikes" in Western New York, and several trails in the Adirondacks. Shortly after joining the LA Mountaineers, she had her first and very memorable Mountaineering adventure camping in a mosquito infested swamp that almost flooded during a hard rain and leaving the Bano on the other side of a patch of quick sand. She has also been on several less memorable Mountaineering day hikes and one Bluff trip. Her other adventures include scuba diving in Curacao, kayaking the slower parts of the Klamath River, trekking on the Inca Trail to Machu Picchu, and the Ausangate Circuit in Peru. She has also hiked in Utah's Glenn Canyon, Grand Staircase/Escalante, and Arches National Parks, plus Colorado's Grand Junction area and Death Valley in California. She also discovered that Yellowstone blanketed in snow is breathtaking as well as intimidating for a beginning cross-country skier trying to traverse a steep slope, the bottom of which requires a sharp turn onto a foot-bridge that if missed will see you knee deep in very cold water several miles from the lodge. While she's attempted scuba-diving, kayaking, cross-country skiing, and skiing across water, hiking is her number one activity.