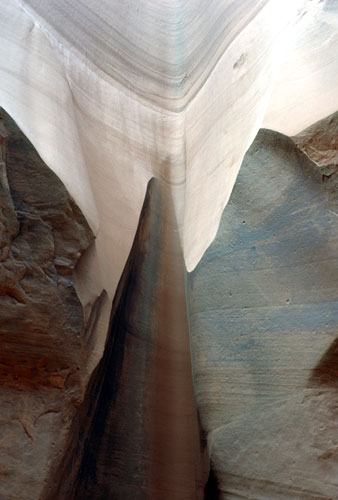 Dry waterfall on the side of Peach Wash, Navajo Reservation, Arizona.
Photo courtesy W. Priedhorsky.
Back to "Monthly Program History"
Wednesday, January 16, 2008
"Thirty Seasons in the Canyon Country: Walking in Beauty"
by Bill Priedhorsky
The canyon country of southeast Utah and northeast Arizona is the wildest part of the 48 states, with deep slot canyons, miles of bare slickrock, and the last mountain range to be discovered south of Alaska. Surprisingly, there are many water sources within this desert, making possible multi-day explorations into this land of stark beauty. We who live in northern New Mexico are lucky enough to live within a day's drive of the canyon country. At the January meeting of the Los Alamos Mountaineers, Bill Priedhorsky will share stories and pictures from 30 years of canyon adventures with the Mountaineers. These spring and fall expeditions bring surprises around every corner in the trail and twist in the canyon.
The canyons are a place for physical adventure, even if, in Bill's case, not highly technical, but also a place where lifelong friendships are formed and nurtured. The canyon country takes hours to cross, even on a high-speed highway, extending from the southeast corner of Utah to Zion and Bryce parks in the west, and from the Grand Canyon in the south to the San Rafael Swell in the north.