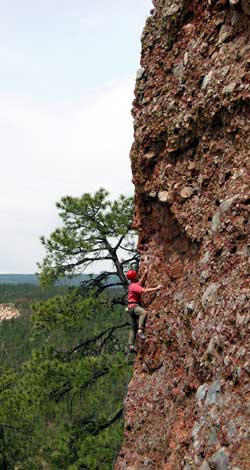 "Super Arete" (5.8) at the Sport Area,
first ascent.
A few miles north of the small New Mexico community of El Rito, tucked well up side canyons in the Carson National Forest, lie two cragging areas: First, an area of broken cliffs and boulders high on a west-facing canyon slope that provides just the right setting for a "sport" area. The adjective "steep" here is only applied to walls beyond the vertical. However, the holds are plentiful, and the faces are just the right height for half-rope bolted routes. In addition, there are few other visitors to the area, so the inevitable wear and tear, visible anchors, and chalk-defaced crags are only seen by climbers.
Further up the road is a 100m high monolithic cliff that provides a good setting for traditional (gear-protected) climbing. Its attributes include: lack of crowding, good access, interesting and solid rock, generally good protection, and that very rare commodity: high quality climbs at moderate difficulty levels. This is the perfect spot for a beginning climber to learn multi-pitch technique, with plenty of exposure to motivate mastering the art of placing protection. These are the "El Rito Trad" cliffs.
---
Click on one of the two buttons at the top of the page to access the (.pdf) guides. For more information, or to comment, you can contact our local contact Jason Halladay via email.
Also visit NACLASSICS; another Gary Clark project.