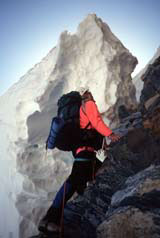 Most of the photographs in this project were taken by Gary or Lynn Clark. Others were contributed by fellow climbers, many of whom responded to my queries in the UseNet news group rec.climbing. All photos up until mid-2002 were taken with 35mm cameras on either Kodak or Fuji slide film. Cameras used included Pentax and Canon SLRs and Pentax, and Leica, Contax, and Olympus compact cameras. In mid-2002 we converted to digital cameras (Canon), and don't currently plan to use film again.
With very few exceptions all shots were handheld, and were taken in the regular process of doing the climb; thus they are from the perspective of the lead climber or belayer.
I scanned both slides and negatives using a high quality slide scanner, then used Adobe PhotoShop software to crop, adjust brightness levels, and retouch dust and scratches. Often I adjusted color balance; e.g., shots taken on a big shady face or early in the morning will always appear blue, and shots on snow often have excessive magenta. Occasionally I applied digital filters to improve sharpness or decrease graininess.
The final images were saved in JPEG format at "Hi" (6O) quality at two different resolutions: 1024 pixels on the longest dimension, and 675 pixels for quick perusal or viewing on a small screen.